Posted on
February 9th, 2023
by The Protomen
EURO TOUR IN ONE MONTH
We've had a couple big blows to the tour recently with the cancellation of two shows (Sci-Fi Weekender and Swansea), but by damns… we're still gonna make this thing happen! We're not exactly sure what went down in either case, but best of luck to those events and venues. You should have gotten or should be able to get a full refund on both of them from point of sale. And if you were planning on going to either of those shows, please join us at any (or ALL) of the other shows on the tour!
*edit update*
Another update that just came in is that our London show has changed dates as well as venues to O2 Academy Islington on the 18th (instead of 16th). Existing tickets are still valid… just a different place and date (actually the same venue we played last time we were there and we loved it). We're incredibly sorry for any inconveniences this may cause. Please bear with us, we're doing everything we can to make sure this tour actually happens! Please contact the venue if you have any questions or concerns.
And along with all that, we've added a limited number of VIP tickets to every show of the tour! If you grab a VIP ticket, you can expect:
Meet and Greet with the band
Signing session
VIP group photo with the band
Tour Poster
Exclusive VIP Tour Laminate
Early access to merchandise
Early entry for the concert
1 pocket-sized clone of Panther that will sing to you any time you want (not really, but one day…)
We're not exactly sure what day those go live, but keep an eye on our socials for that announcement – facebook – instagram – twitter – friendster
MARCH
10th – Paris – Les Étoiles
11th – Amsterdam – Melkweg
12th -Berlin – Frannz Club
16th – Münster – Sputnikhalle (NEW SHOW ADDED!)
18th – London – O2 Academy Islington
19th – Oxford – 02 Academy
21st – Wolverhampton – KK's Steel Mill
22nd – Glasgow – Stereo (SOLD OUT) – but VIP Upgrade AVAILABLE
23rd – Bradford – Nightrain
CHICAGO WITH CYBERTRONIC SPREE
Chicago in TWWOOOO WEEEEEEKKSSSS… we're real excited to get up there to eat some Italian Hot Beef Sandwiches for every meal for 3 days straight, and I guess we're also excited to play a couple shows. It's probably an even split on the excitement. Maybe it's like 100% excited about the shows. And 114% excited about the sandwiches. I'm not a math wizard or anything, but I think that's like 300% pure excitement!! Rest assured, we'll be bursting with excitement when we get to Chicago. And bursting with hot beefs when we leave. But seriously, we can't wait to finally share the stage with Cybertronic Spree for this sold out weekend at Reggies!
Here's the new limited edition poster for the show. If there are any left over after the show, we'll put them up on the Sound Machine Store.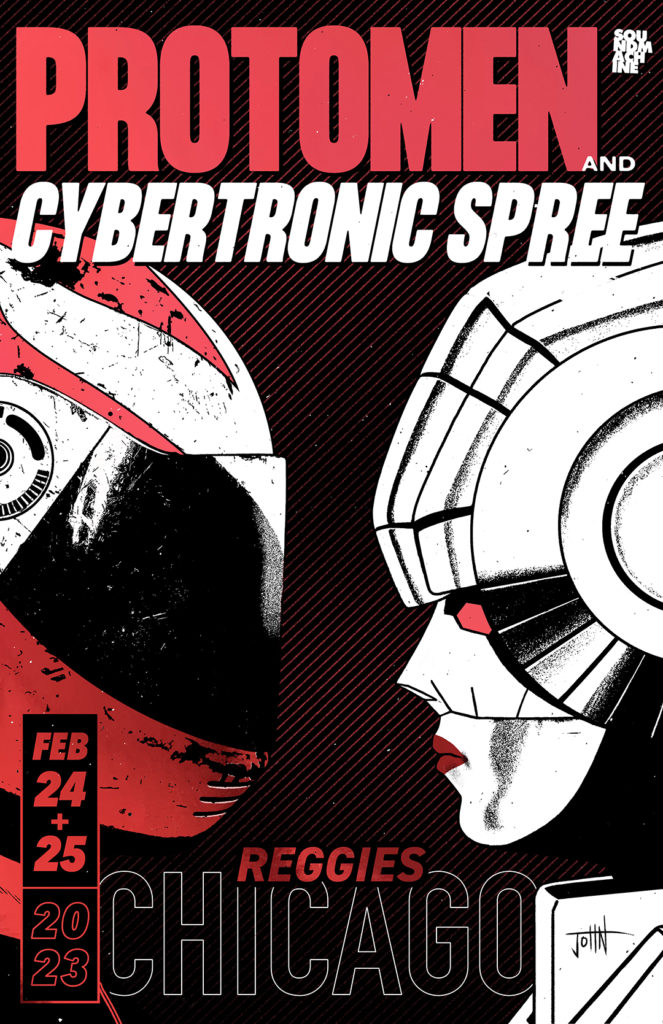 THE FIGHT IS NOW ON BANDCAMP
Getting tired of streaming "The Fight" over and over and want to finally take the plunge and drop the cold hard dollar bill to purchase it outright? Now's your time. Buy "The Fight" now on Bandcamp so you can own a piece of history. Take a picture of your purchase page, print it out, and then mount it on the shelf right next to your immensely valuable coin collection and culturally significant commemorative porcelain plate display. It's sort of like an NFT, but makes way more sense.
And we've got all the other fancy Fight merch on Bandcamp, too. There's a super rad sweatshirt, windbreaker, and t-shirt! Grab 3 of each!
Hope to see some of you in Chicago or Europe!
-Commander