NYE BUMMER NEWS
Exit/In informed us last night that we're going to have to postpone New Year's Eve until April 9th, because of the crazy intense spike in COVID numbers over the past two weeks. I know it's a raging bummer, but you can expect us to ring in the new year to the extreme on its new date of April 9th. I don't exactly know how we're supposed to tell the whole world that 2022 has been postponed by 4 months, but I guess the word will get out. And hopefully there won't be any kind of Y2K stuff going on with toasters and lawn mowers becoming sentient and such.
And don't worry, the April 9th show is going to be the same exact lineup – Proto, Makeup And Vanity Set, and Hans Condor.
If you need a refund for your show ticket, Exit/In is giving you until January 6th to do that. Check your emails from Exit/In for more info on refunds. Otherwise, hang on to that ticket and we'll see you in April!
The New Year's Eve Eve Left Can Dance Dance Party Party is also in the same boat, but we're not exactly sure of the long-term fate of that event yet. We'll know more in the future.
EURO TOUR
Speaking of April, don't forget we start our second-ever European tour that same week, and Makeup And Vanity Set is coming over there with us now! Grab tickets and help spread the word about it. We want to see every person in Europe at our shows.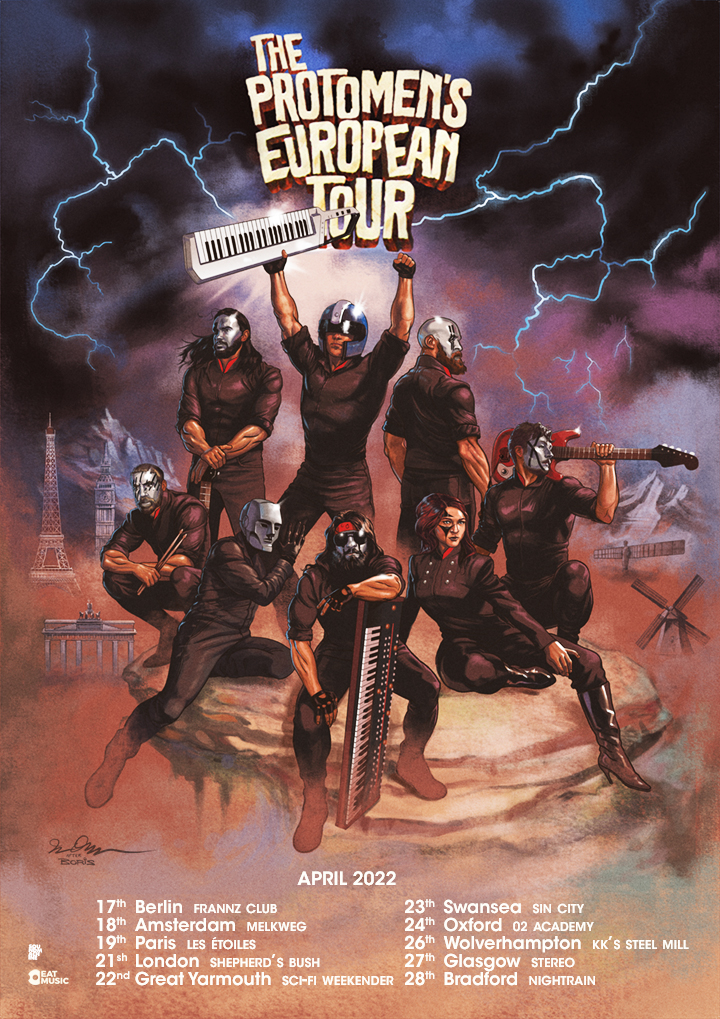 APRIL
17th – Berlin – FRANNZ Club
18th – Amsterdam – Melkweg
19th – Paris – Les Étoiles
21st – London – Shepherd's Bush
22nd – Great Yarmouth – Sci-Fi Weekender
23rd – Swansea – Sin City
24th – Oxford – O2 Academy
26th – Wolverhampton – KK's Steel Mill
27th – Glasgow – Stereo
28th – Bradford – Nightrain
Mega Man Movie
Allllsoooo….. we've seen a lot of people getting amped up about the possible Mega Man Netflix movie's lack of any Proto involvement, and while we appreciate the fervor, it would be far more effective to tag or contact the people involved with the project itself, instead of just responding to news source that's reporting it.
We'd recommend tagging Netflix, the production company, and/or some of the producers+directors in your friendly, polite, and courteous rants about how their project is doomed unless they involve us somehow.
So with that, enjoy another 14 or so weeks of a terrible year!
Don't drive angry,
-Commander
p.s. Keep an ear on your email, because we've got some more (and hopefully better) news coming soon.