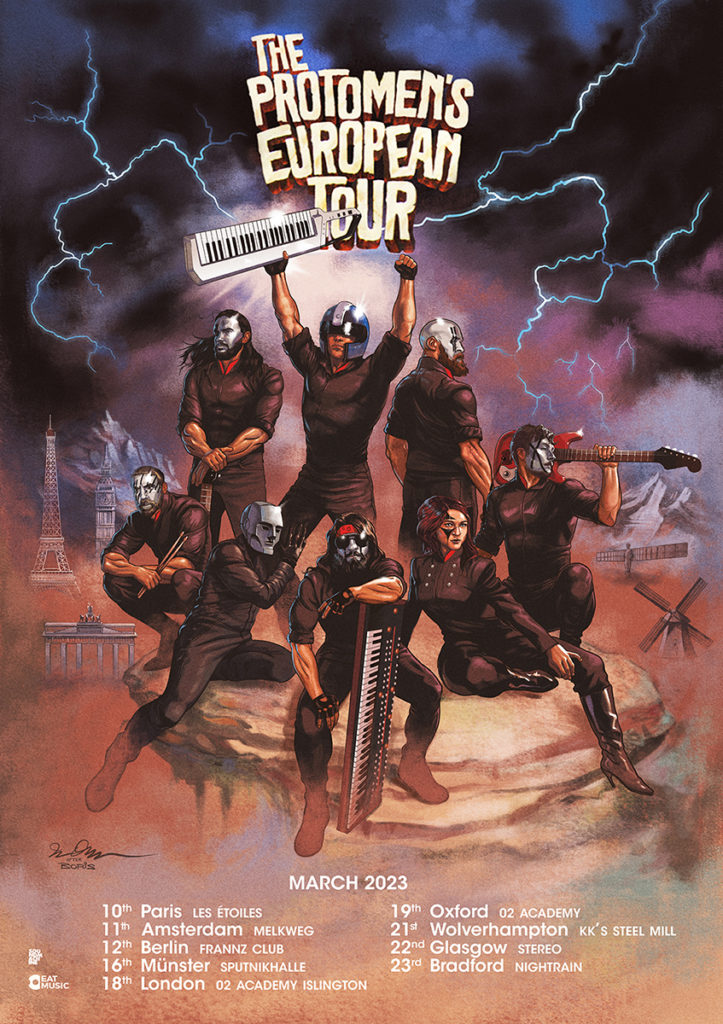 We kick off the long-overdue Europe tour in less than a week. After 3 years of postponements and false starts and cancellations… we are finally making this thing happen, come hell or high-water. The rock and roll gods have spoken! … and it turns out they reeeaaally wanted us to cancel the whole thing and go back to school to get an IT degree. But we've chosen to ignore the gods and get on the half-sinking ship across the Atlantic with nothing but our dreams and 19,000 metric tonnes of gear. We may not all come back, but we refuse to know when to give up!!
On that note, for good or for bad, here are some updates:
NEW SHOW IN MÜNSTER!!!
March 16th at Sputnik Halle. We know it's pretty short notice, but help us out now… let's try to get the entirety of Germany to that show! We know it's only a 250 capacity room, but maybe we can squeeze everybody in?
LONDON DATE CHANGE
Many of you know this by now, but we wanted to remind everyone that the London show has changed both dates AND VENUES (now O2 Academy Islington on the 18th), but existing tickets are still honored. We know this throws a massive wrench into a lot of people's plans (ours included). Unfortunately, with the bizarre (and still unexplained) evaporation of both the Sci-Fi Weekender show and the Swansea show, these changes were the only way we could still make the tour happen. We've had A LOT of reasons to jump off this ship and swim home, but we know that when we finally get there, it's gonna be such a glorious moment that it will have all been worth the struggle. Like, when that ship with the T-Rex finally made it to San Diego at the end of Jurassic Park 2. Everyone celebrated and nothing bad happened… right? It's been a long time since we've seen that movie. Maybe we can watch it on the trip over.
Speaking of monsterous lizard birds, we've got some more unfortunate news… Makeup And Vanity Set won't be on the ship heading over to Europe with us after all. We tried begging. We tried twisting his arm. We even tried chloroform, but the ski mask kept him from breathing enough in to knock him out (he's always one step ahead of us…).
We get it though. All signs have been pointing us towards cancelling this thing and it's for sure financially irresponsible of US to carry on with two cancelled shows. MAVS is a pretty fancy dude… but he was ready to sleep in the gutters and only eat raw cabbage and rocks like we're going to, however he's got some other obligations that make it an unfortunate no-go and we support him in that. And also… he just had his teeth redone, so eating cabbage and rocks would do him no good.
BUT ON TO SOME GOOD NEWS….
Most VIP Tickets are finally available!! — we're still waiting on Amsterdam and Münster, but we'll try to let you know as soon as those are live. Keep an eye on our socials (facebook, Instagram, Twitter) and Tour Page, because we might announce them first on those.
>VIP TICKET INFORMATION<
If you're wanting some VIP ticket's you have to purchase them separately from the main show ticket. If you already have regular show tickets, all you have to do it purchase the VIP ticket and you're good to go. But if you haven't gotten tickets to the show yet, you should be able to buy show tickets and VIP tickets at the same time. And if for some interesting reason you ONLY want to come to the VIP pre-show session… because you love seeing grown men and women dolled up in silver facepaint but hate rock and roll, I suppose that's a thing too?? We won't judge! And I can confidently say that this tour is happening, so if you've been on the fence about getting tickets…. get off the fence and get to getting. We need all the support you can muster over there!
VIP TICKET includes:
• Early entry for the concert (one hour before Doors Open)
• Early access to merchandise
• Meet and Greet with the band
• Signing session
• VIP group photo with the band
• Tour Poster
• Exclusive VIP Tour Laminate
**ATTENTION** VIP Ticket does NOT include concert! Ticket for the show needs to be purchased additionally.
Grab some VIP tickets below so we can do some chit-chat with you and sign some stuff before the show. Also, help spread the word, because I know not everybody in the world is on this mailing list (even though they should be).
Speaking of which, let's go ahead and activate the European Street Team while we're at it to help get the word out about these shows so we can actually come back a 3rd time! It's easy, all you have to do is tell other Europeans about the shows.
MARCH
10th – Paris – Les Étoiles (VIP Available)
11th – Amsterdam – Melkweg (VIP Ticket Upgrade Here)
12th -Berlin – Frannz Club (VIP Available)
16th – Münster – Sputnikhalle NEW SHOW ADDED! (still waiting on VIP)
18th – London – O2 Academy Islington (VIP Available)
19th – Oxford – 02 Academy (VIP Available)
21st – Wolverhampton – KK's Steel Mill (VIP Available)
22nd – Glasgow – Stereo (VIP Upgrade Available Here)
23rd – Bradford – Nightrain (VIP Available)
SOME OTHER GOOD NEWS… CHICAGO WAS AMAZING
A huge thanks everyone at Reggie's rock club, Cybertronic Spree, and to everyone who came out! And it was absolutely wonderful finally sharing the stage with Cybertronic Spree. If you haven't seen them live yet, go find them… they're hard to miss. They'll be the giant robots playing rock and roll (as opposed to The Protomen… a comparatively short band of robots playing rock and roll).
We had an incredible time playing with them, and we can't wait to do it again soon.
Also, I just thought of something while looking at this European stuff. Is everyone aware that we have a European store with some pretty rad exclusive merch (including Act I records and the old Euro Tour shirt that's one of the best shirts we've ever done)?! … because it sure seems like nobody knows about it. We have all kinds of stuff over there and it ships worldwide. We're about to stop in and grab what's left of that merch before these shows, so get it while it's still there and help us clear out the closet!
We'll see all you Europeans next week!
-Commander