TLDR – Cybertronic is out – We're still in – Europe is postponed – We made some videos – Here's a ringtone – The Wolf Among Us 2 – This has been one hell of a week. 
We found out today that Cybertronic Spree is going to have to bow out of the tour, because one of their crew came down with COVID. Rather than me speaking for them, this is what they asked us to pass along to you:
We were incredibly excited to share the stage with them, and we wish them well on their recovery. We'll make it happen one day.
BUT THE GOOD NEWS…
… is that we WILL be carrying on without them. We haven't fully locked down what we're going to do about a support act/s, but that, too, we'll figure out! Right now we know we'll be playing with Watch Out For Snakes in Atlanta, Destructonomicon in Orlando, Thrillkiller in Baltimore, as well as others. We'll try to announce more as we know more.
MARCH
12th – Atlanta, GA – The Loft
13th – Orlando, FL – The Abbey
14th – Gainesville, FL – High Dive
16th – Carrboro, NC – Cat's Cradle
17th – Baltimore, MD – Soundstage
19th – New York City, NY – LPR
20th – Philadelphia, PA – World Cafe Live
This is the fancy screen printed poster that John DeLucca and Caspar Newbolt put together and Grand Palace printed. We'll still be selling them at shows, even though Cybertronic won't be with us, because they're awesome and we've got a lot of them… and they weren't very cheap to make. They're printed on red foil reflective paper, and they're pretty danged rad.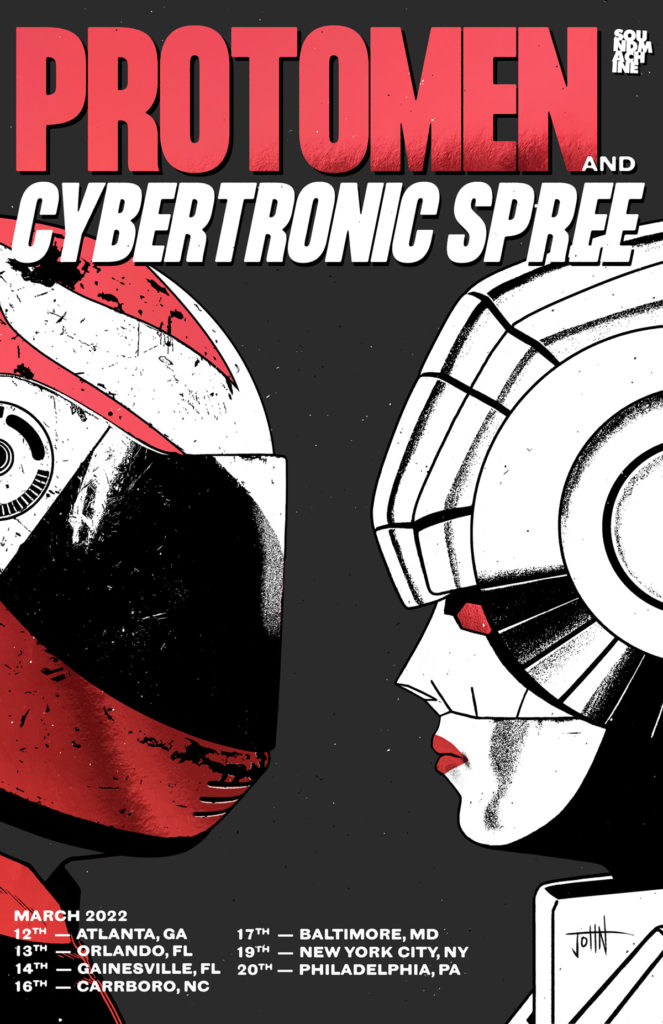 Check out some of the print process….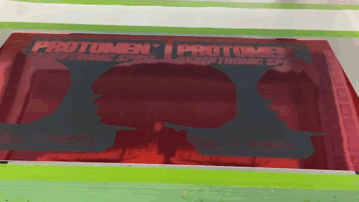 And if you don't follow us on Facebook, Instagram, Twitter, or Youtube, you might have missed these little award winning (not really) short films we put together recently to promote the tour. Clearly, we can't go back and fix all the other videos to take Cybertronic off of them, but we'll just carry on releasing the last few with an amended band card. It's probably easiest to check them out in order on instagram or this youtube playlist —> When Panther Calls
You'll also be able to check them out at Cannes Film Festival in a couple months (not really).
And some of you asked for the ringtone so you could feel like you're getting beeps from Panther. Don't say I ain't never did nothin' for you —> WILL OF ONE RINGTONE
AND MORE BAD NEWS… EUROPEAN TOUR EDITION
We're having to postpone our European Tour until March of next year. We know this whole email is raging bummer-town but we found out recently that the Sci-Fi Weekender convention had to postpone. We tried our best to make the tour happen anyway, but without that show, we can't make the rest of it work financially. But the good news is we've already locked down dates to reschedule the entire thing (same venues and all) and all tickets will be honored for March of next year. Here are the new dates:
–MARCH 2023–
10th – Paris – Les Étoiles
11th – Amsterdam – Melkweg
12th -Berlin – Frannz Club
16th – London – Shepherd's Bush
17th – Great Yarmouth – Sci-Fi Weekender
18th – Swansea – Sin City
19th – Oxford – 02 Academy
21st – Wolverhampton – KK's Steel Mill
22nd – Glasgow – Stereo
23rd – Bradford – Nightrain
*ticket links shouuuulllld just switch over to the new dates soon? We'll keep an eye on it and fix things as necessary.
IN SOME BETTER NEWS – THE WOLF AMONG US 2
In case you missed it, check out the new The Wolf Among Us 2 trailer. You might hear something familiar.
Again, we're incredibly sorry for all the bad news, and I hate that this was such a downer email. I want to end it on a happier note, though….. We're playing a brand new Act III jam on this tour! That's something, right?
Either way, hope to see some of you out there, and let's do some rock and roll!
-Commander