Posted on
November 24th, 2022
by The Protomen
Gonna keep this as short and sweet as possible.
We're restocking some things in the Sound Machine Store just in time for the Black-Cyber sales shenanigans. For instance, the fabled Father of Death Beach Hoodie is in the press as we speak.
Grab some stocking stuffers at a 20% discount in time for the holidays. That's 20% off the entire order!
Sale starts right now and goes until Monday (28th) at 11:59 CST.
use this code at checkout ——> TWENTY22
some things that are being restocked – FOD beach hoodie – Act II Logo shirt – Act II Cover shirt – Light Up The Night shirt – Flag – Patches – LUTN Lighters
——
CHICAGO WITH CYBERTRONIC SPREE
In case you missed the news since the last mailer, the Feb 25th show sold out so fast that we added another show on the 24th. Those tickets are almost gone too, so hop on those quick if you're interested in pure excitement.
–FEBRUARY 2023–
24th – Chicago, IL – Reggies (newly added show!)
25th – Chicago, IL – Reggies (SOLD OUT)
——
PROTOMEN IN EUROPE+UK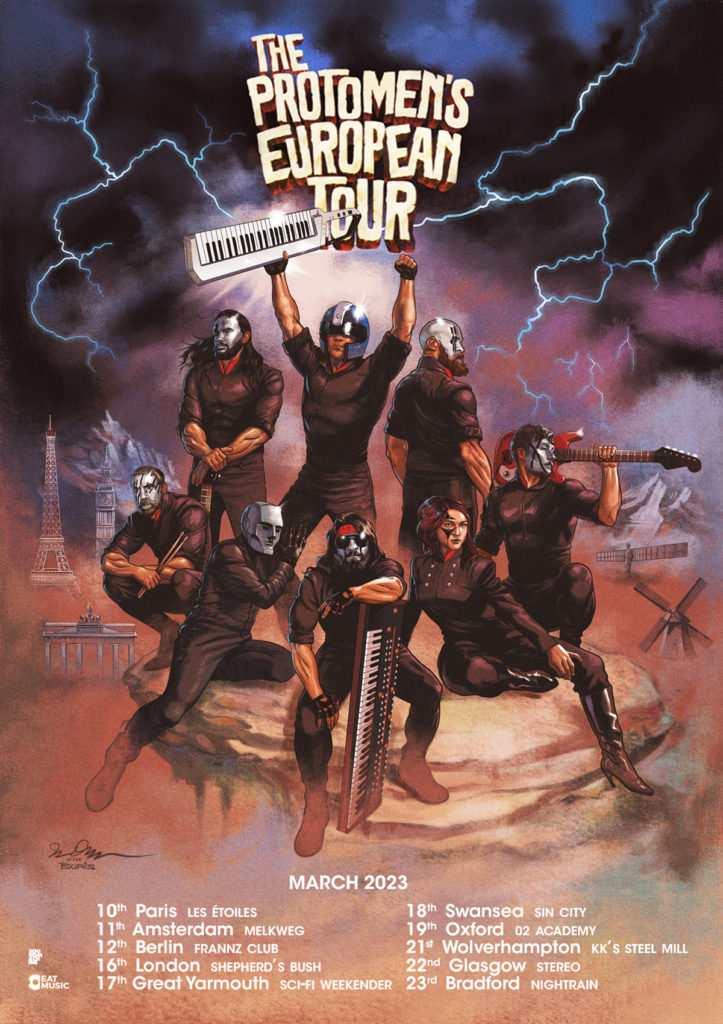 You know what else works great as stocking stuffers? Multiple Protomen show tickets in various cities all over Europe! Plane tickets and train passes! Maybe a trusty travel pony (just make sure they know how to properly care for said pony)!? But for sure some new luggage for all the days your loved one will be on the road following their new favorite American band as they cross the continent making rock and roll history. And then might as well throw in a new Roomba to keep their floors clean while they're on their life-affirming journey. And with that, think of all the things you can get done at home while they're off following the Protomen around Europe! You could start that garden you've been talking about for the last 3 years. Actually, forget the garden, you should come too! And bring the Roomba! It's a win-win-win!!! You know what to do.
–MARCH 2023–
10th – Paris – Les Étoiles
11th – Amsterdam – Melkweg 
12th – Berlin – Frannz Club
16th – London – Shepherd's Bush
17th – Great Yarmouth – Sci-Fi Weekender
18th – Swansea – Sin City 
19th – Oxford – 02 Academy 
21st – Wolverhampton – KK's Steel Mill
22nd – Glasgow – Stereo
23rd – Bradford – Nightrain
That's all for now, but see you back here in about 3 weeks.
-Commander