Posted on
April 9th, 2020
by The Protomen
NASHVILLE TORNADO RELIEF
It's a rare time (hopefully) when you have to decide between to two major crises to focus on, but here we are. While we were on this last tour with TWRP, the COVID-19 pandemic was starting up in the US and chasing us across the south. And then midway through the tour we got word that our hometown, Nashville, had been hit by a massive tornado. It was quite a blow to be so far from home and unable to help with the initial cleanup effort.
While there's not much we can do to help in the COVID fight (aside from following the guidelines of the health officials), we figured we could at least lend a hand with the Nashville tornado issue.
We started to toss around ideas and, obviously, the first thing we thought to do was a benefit show as soon as we got home from tour. But then the (much needed) lockdown started to happen, making shows impossible. So we turned to the idea of making a limited edition "THIS CITY NEEDS YOU NOW" shirt to sell with all the proceeds going to Hands On Nashville. We've come up with this design that we hope you'll grab and sport around your living room for all your pets to see. Wear it in your video meetings and twitch streams. Wear it to bed. Wear it in the shower, because maybe you're a nevernude (no judging). Wear it wherever you want! Just grab one and help us support Nashville through the painful tornado cleanup/rebuild.
Pre-order starts now on our Sound Machine Store.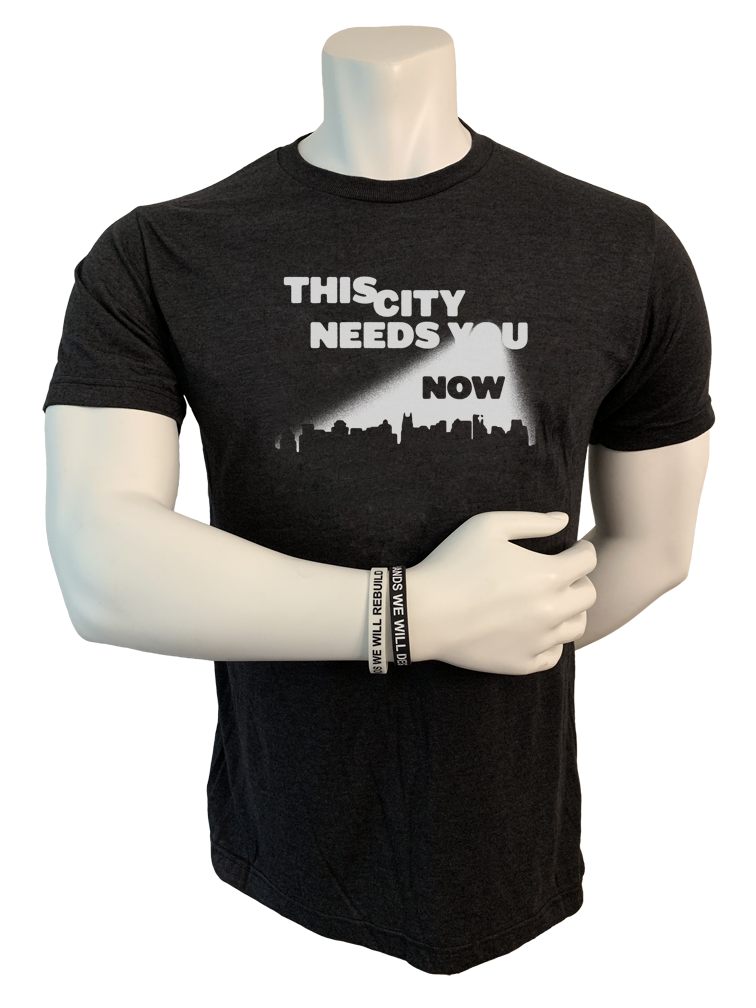 HOWWWWEEEEVVER, we know times are really really tough right now with the larger pandemic issues, so DON'T spend money on this if money is scarce. Nashville is strong and we'll still be standing when all this is over. What we're saying is, don't buy Protomen Merch over buying, say, flaming hot cheetos or paying your rent. We need you to stay fed, housed, and safe… and non-corona'd.
EUROPEAN EASTER SALE
Right on the heels of that spiel about not spending money when you don't have to…

That's right, WE'RE HAVING A EUROPEAN EASTER SALE!!!
20% off of everything in the Kings Road store. Friday – Thursday (April 10th-16th) … *EDIT* sale was originally Friday – Monday, but there were technical difficulties, so we extended to Thursday.

Enter this code at checkout: EASTERMEN2020
But seriously, if money is tight, please don't buy our stuff. Save your money for the essentials, like food and toilet paper. But mostly toilet paper.
That being said, you can probably use most of our merch as toilet paper*. Sooooo maybe buy a bunch of our merch, just in case?
*most merch is non-flush
COVER UP ON CD
For those wondering about the Cover Up CDs that I mentioned in the last mailer, they ran into production issues and have, unfortunately, been delayed. They're still coming, but we don't know exactly when. Keep an eye on our socials (Facebook, Instagram, and Twitter) for more info on that between mailers. We'll probably post a picture when they finally get here.
Stay safe out there,
-Commander